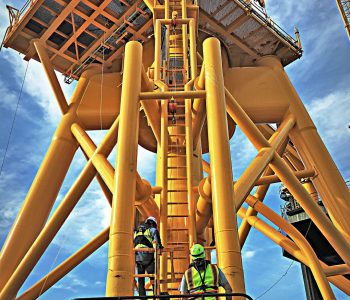 NEW YORK – April 24, 2023 – Joint venture partners Eversource and Ørsted today announced their single largest New York offshore wind industry supply chain contract, with their selection of Long Island-based contractor Haugland Energy Group LLC (an affiliate of Haugland Group LLC), which will create more than 400 jobs for New York union workers to install the underground duct bank system for Sunrise Wind's onshore transmission line in Brookhaven, Suffolk County, New York.
This more than $200 million scope of work will be completed by Long Island skilled tradesmen and women, including heavy equipment operators, electricians, and lineworkers. This award builds upon a similar scope of work Haugland Group successfully completed for Eversource and Ørsted's South Fork Wind project – on-track to be America's first completed utility-scale offshore wind farm. South Fork Wind will power approximately 70,000 New York homes annually when it begins operations at the end of 2023.
Sunrise Wind is a 924-megawatt offshore wind project to be located approximately 30 miles east of Montauk, N.Y. This project alone will achieve roughly 10 percent of New York State's offshore wind goal of 9,000 megawatts by 2035, while also bringing $700 million of investment to Suffolk County and creating 800 direct jobs and thousands of indirect jobs in the state.