PRESS RELEASE: EAST HAMPTON ENERGIZED
April 21, 2022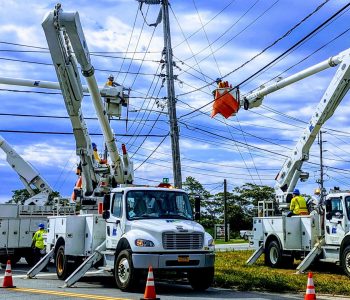 Plainview, NY – Haugland Energy Group LLC (HE) announced the initial energization a 4,100-square-foot battery storage facility at Three Cove Road in East Hampton, New York. The commission of the battery storage system was completed on Wednesday, August 1, 2018, and is owned and operated by LI Energy Storage System LLC, a joint venture between National Grid and NextEra Energy. The facility promotes recent initiatives in New York to increase energy storage, renewable energy resources, and energy efficiency.
NextEra Energy contracted Haugland Energy Group to provide turnkey installation of the battery storage system, along with site work to include foundations, building erection, and commissioning support. Construction began in January 2018; despite a winter rife with extreme cold temperatures, snow and freezing rain, HE met the project completion date.
The facility has a 5-megawatt capacity, with the ability to power approximately 5,000 homes, providing as much as eight hours of critical back-up power to the electrical grid. The facility draws power from the grid during off-peak hours, and stores it in the lithium-ion battery racks to later be released during high-demand hours, which is especially critical in the summer months.
"Haugland Energy is proud to be involved with Long Island's first large-scale energy storage facility," said Bill Haugland Sr., Chairman and CEO of Haugland Group, holding company of Haugland Energy. "Facilities like this are critical as we take steps to reshape the region's energy infrastructure, and begin looking toward making future renewable energy sources like wind and solar reliable."
A second sister facility is currently under construction by HE in Montauk, New York, and is projected to be complete ahead of schedule by the middle of October, 2018.
About Haugland Energy Group LLC
Haugland Energy Group LLC is an affiliate company of Haugland Group, providing turnkey construction, electrical power generation, transmission, distribution, and substations. It employs a team of industry leading executives, project managers, estimators welders, splicers, and linemen with decades of energy infrastructure experience. For more information about Haugland Group, Haugland Energy Group, or any affiliate companies, visit www.hauglandgroup.us or call 516-336-6720.
###